Have you met the mesmerizing Monstera Dubia yet? If not, you're in for a treat! This Monstera plant has been taking the indoor jungle world by storm thanks to its stunning shingle-like growth pattern. Its fascinating traits of transformation from juvenile to mature form will amaze you.
We'll guide you through every step of Monstera Dubia care, from its ideal environment to the best way to propagate (hint: it's stem cuttings!).
Monstera Dubia Care Guide
History, Habitat, and Characteristics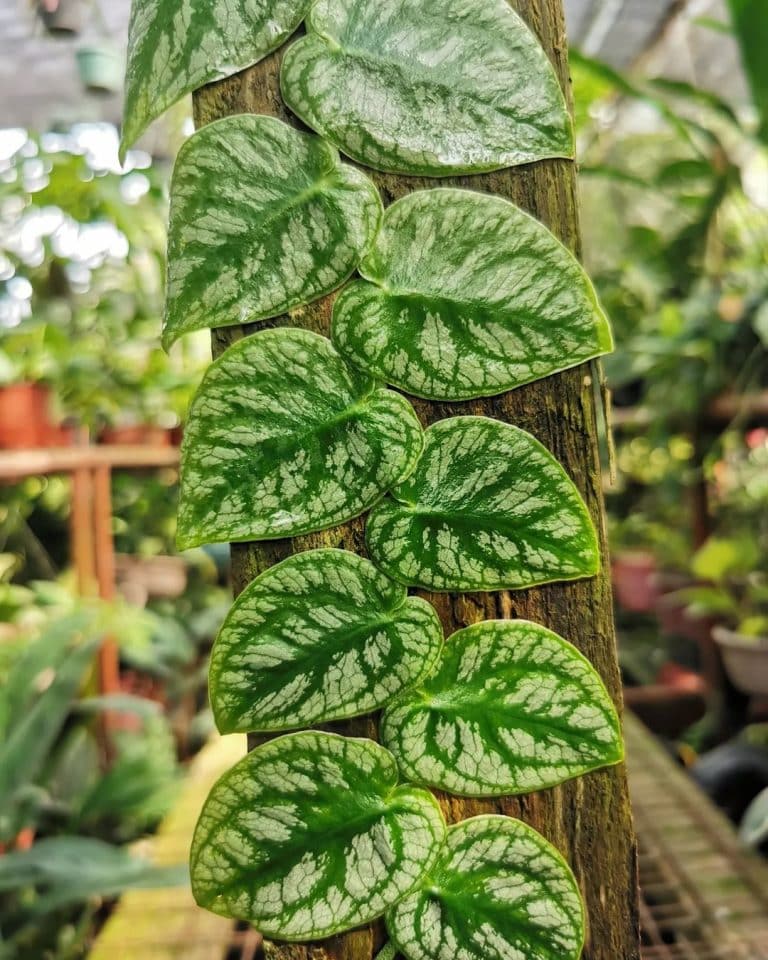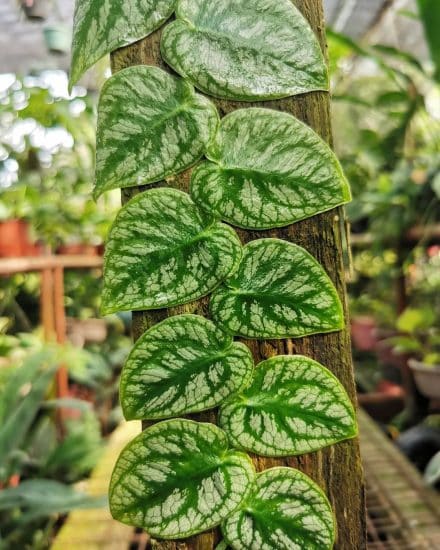 Monstera Dubia, also known as the shingle plant, originates from the tropical rainforests of Central and South America. This little wall hugger is a tropical aroid that climbs up trees, walls, and even rocks in search of sunlight.
What really sets Monstera Dubia apart from other houseplants? Its shingle-like growth pattern, of course! As a youngster, the Monstera Dubia's leaves lay flat like shingles on a roof, complete with flashy silver colors and striking veins.
But as the juvenile plants grow, the leaves transform into larger, duller, dark green, heart-shaped ones with a velvety touch. Many plant lovers find the Monstera Dubia juvenile look's metallic sheen more attractive than its less flashy mature leaves.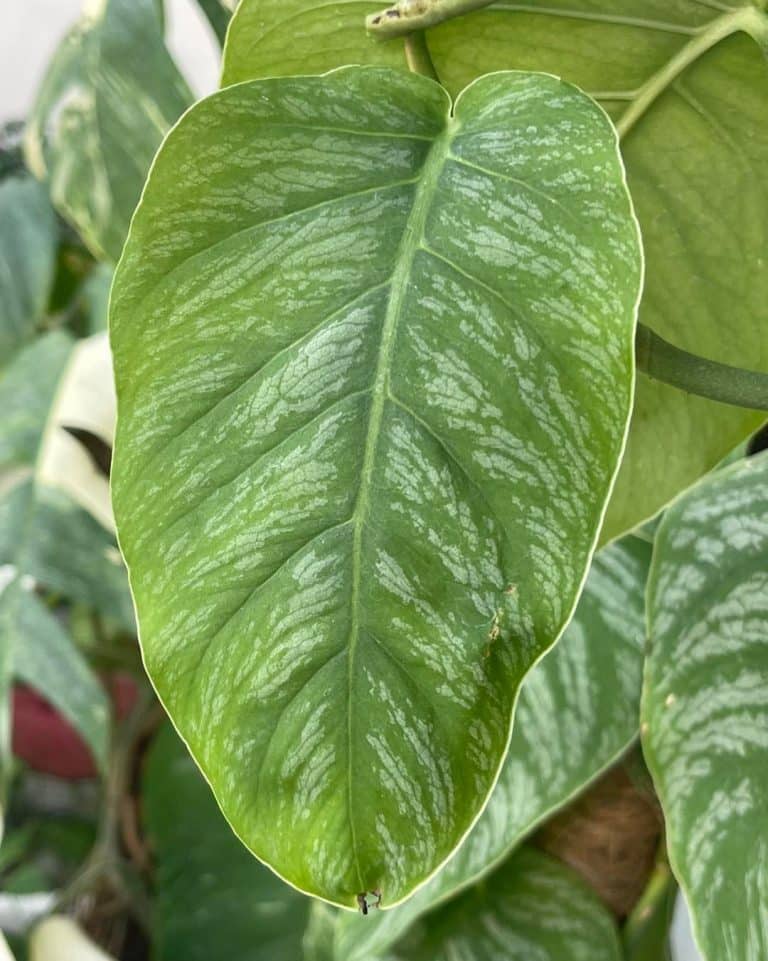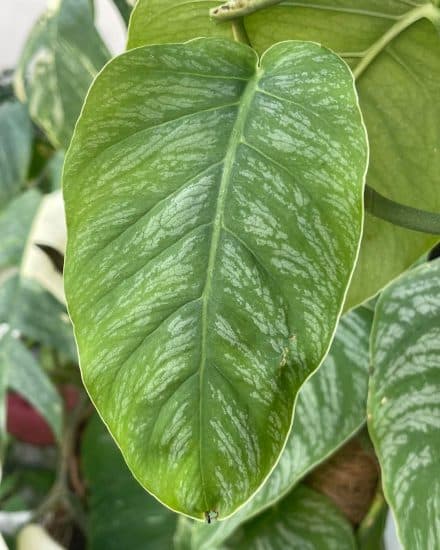 Fun fact: Did you know that as Monstera Dubia grows, it can actually switch between its juvenile and mature forms? Yup, this amazing characteristic lets the Monstera Dubia plant adapt to its surroundings as it grows.
With proper care and climbing support like a moss pole, the mature Monstera Dubia can even develop aerial roots . . . pretty cool, right?
In its native habitat, it's not uncommon for this plant to reach dizzying heights as it climbs trees to find sunlight. So with proper care (a sunny spot and a bit of humidity), Monstera Dubia can turn into a speed demon of growth even in your own home.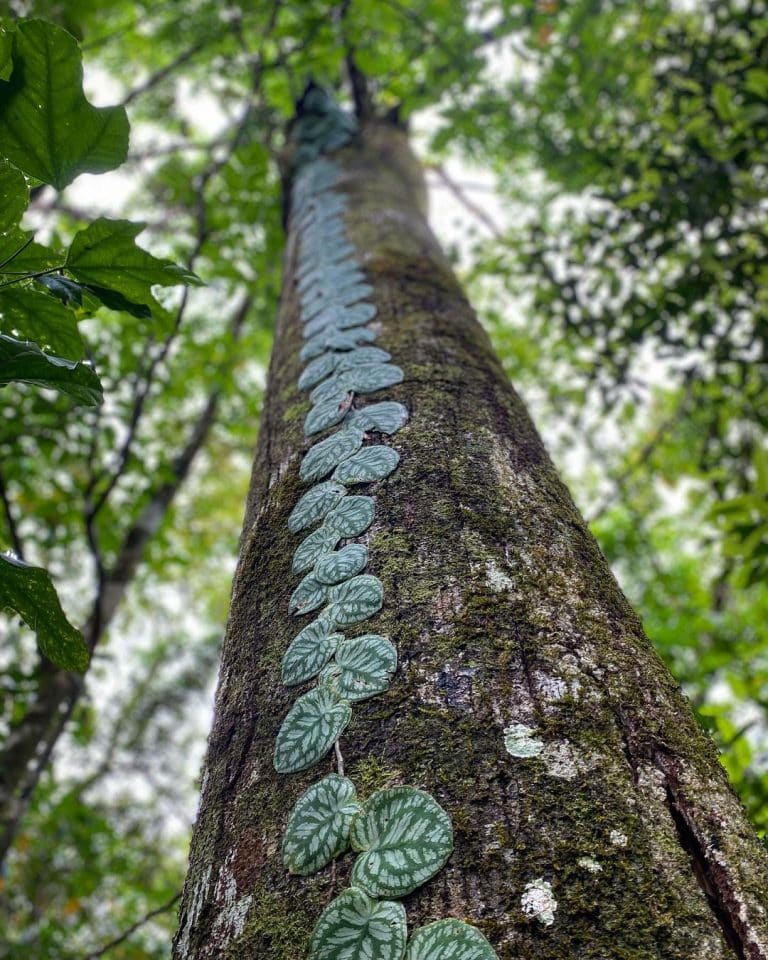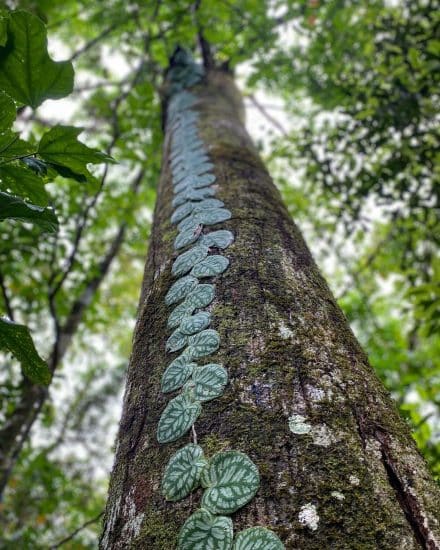 So why not give the Monstera Dubia plant a shot? With a little love and care, you can watch this unique plant take your indoor space to new heights (literally).
Light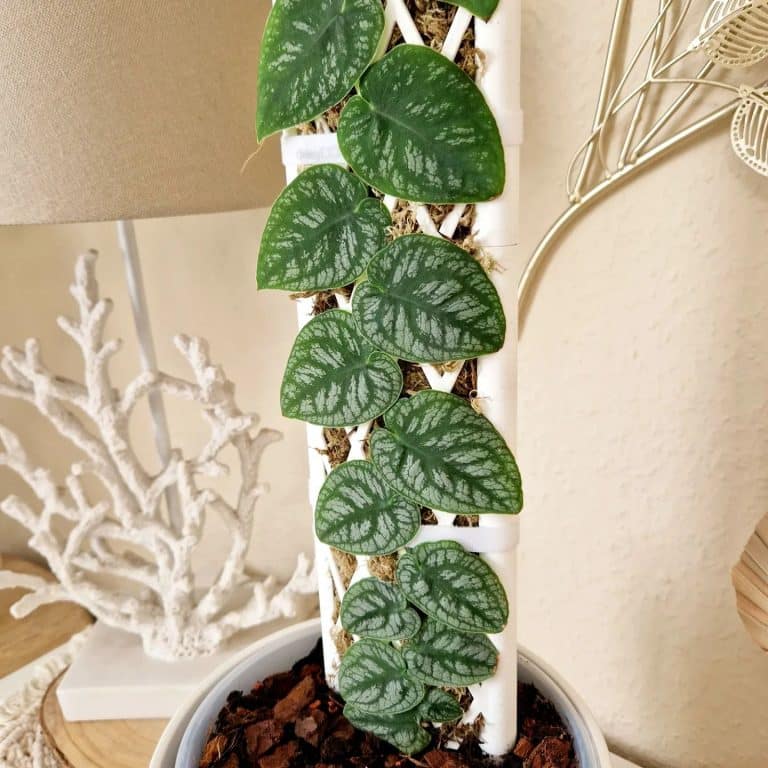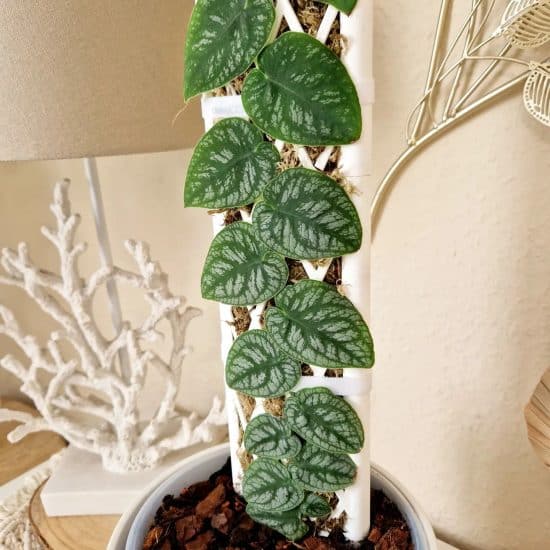 First things first, where should you place your Monstera Dubia plant for the best lighting? Picture its natural rainforest habitat in Central and South America beaming with dappled sunlight, filtered through the canopy of trees.
Now, the goal is to replicate this environment of light in your home. That means finding a spot with bright but indirect light. A touch of direct sunlight in the morning or late afternoon won't hurt either. But avoid harsh midday sun — it can lead to scorched and damaged leaves.
How do you tell if your Monstera Dubia plant is basking in just the right amount of light? Look for clues! If it isn't getting enough light, you might notice smaller leaves and long internodes (those spaces between leaves).
If that's the case, you could move your Monstera Dubia closer to a brighter window or add an artificial light source, like an LED grow light, for example.
On the flip side, if your Monstera Dubia is getting too much light, its leaves may turn yellow, bleached, or develop small holes. In this situation, scoot your Monstera Dubia plant away from the direct sunlight or hang a sheer curtain to gently filter the light.
Don't forget to rotate your Monstera Dubia plant every few weeks. It'll ensure even growth and prevent your plant from leaning towards the light.
Water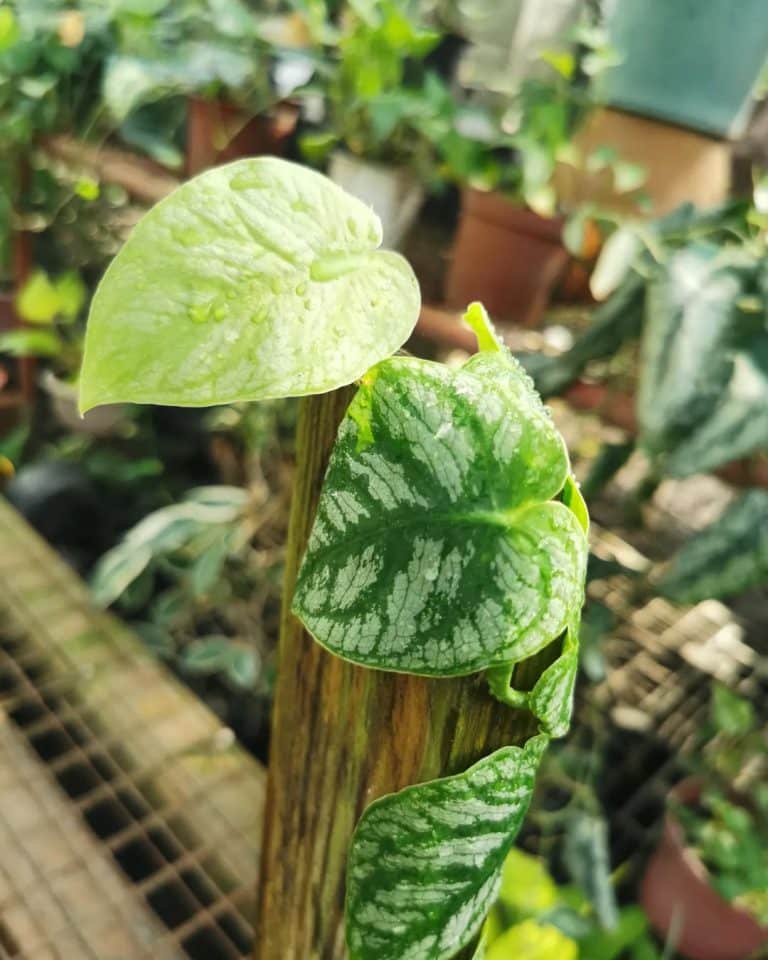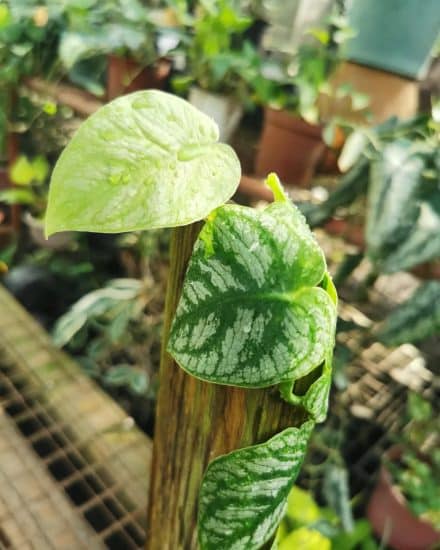 Monstera Dubia are super forgiving when it comes to hydration, but try not to take advantage of that.
When it's time to water your Monstera Dubia, give your plant a good soak and let it drain completely. You don't want any excess water accumulating in the bottom of your pot.
Tap water works just fine for most Monstera Dubia plants, but if you know you have hard water or high levels of chlorine, you'll want to use filtered water and leave it out overnight before using it. Avoid water softeners if you can.
You might be wondering when exactly to water your Monstera Dubia. Here's a tip: feel the soil about an inch or two down from the surface. If it's becoming dry, you should offer it a drink.
Now, let's talk about signs of underwatering. If the bottom-most leaves on your Monstera plant are turning brown or yellow, or curling upward, it's time to step up your watering game. Gently remove any dying leaves, since they could attract pests.
On the other hand, too much water can cause Monstera plants to suffer from yellowing leaves, mushy stems, and soil that remains too moist. If you see brown leaf tips followed by small brown and black spots, that's a sign of the plant's roots rotting. Time to cut back on the watering and let your soil mix dry out.
Temperature and Humidity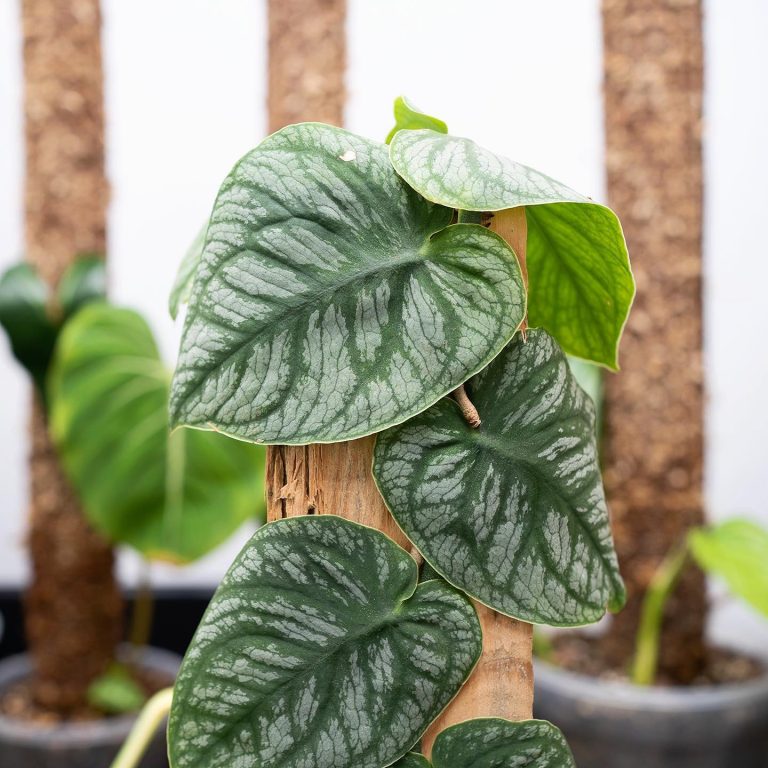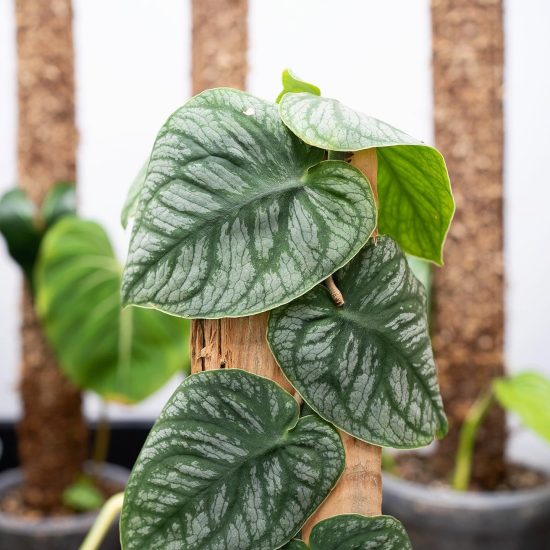 The Monstera Dubia, also known as a Swiss cheese plant, can handle a pretty wide temperature range of 68-86°F. It can even cope with slightly lower temperatures overnight. Keep in mind, the higher the temperature and humidity, the faster this tropical plant will grow.
If the leaves of your Monstera Dubia become droopy or wilted, it might be a sign that the temperature is too high or too low. To avoid temperature-related stress, try to position your plant away from draft windows or doors, where there is a consistent temperature.
Now, onto the discussion of humidity. Monstera Dubia thrives in a high-humidity environment. If you can provide it with around 60% humidity, it will be very content. Lower levels will likely lead to slower growth. Generally speaking, you'll have to supplement humidity in the winter if you're in a drier, colder climate.
If you notice that the leaves are turning yellow or developing brown edges, it could be a sign that your plant isn't getting sufficient humidity.
A quick tip to increase the humidity around your Monstera plants: either use a humidifier, or to place it on a pebble tray with water, ensuring that the pot is sitting above the water level to prevent rotting roots.
Soil and Planting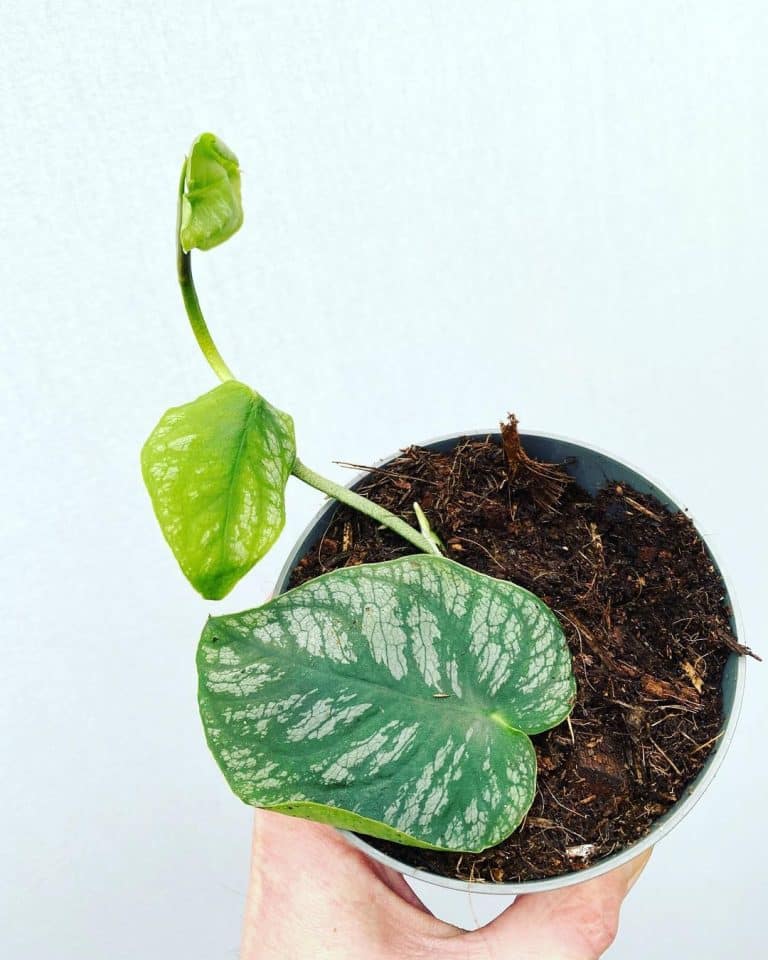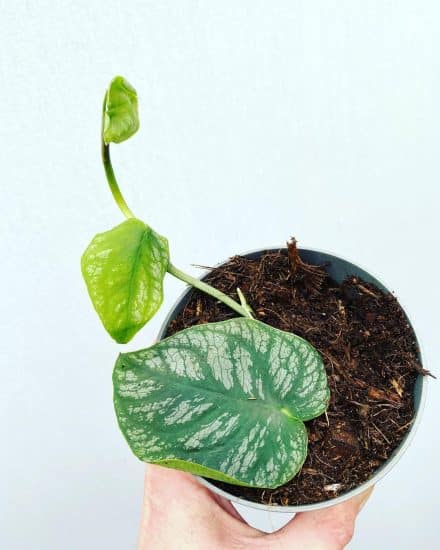 Monstera Dubia, like other tropical plants, thrives in well-draining, chunky, and airy potting mix, within a pot that has drainage holes. This type of soil composition prevents overwatering and encourages healthy root growth in Monstera plants.
Our recommended potting mix:
50% high-quality potting mix
30% orchid bark or coco coir
20% perlite or pumice
Providing Monstera Dubia with something to climb on, like a wooden plank, moss pole, or a similar structure, is essential for healthy growth. Monstera Dubia grows similarly to the Monstera deliciosa, but its care requirements may differ.
Using the wrong potting mix for Monstera Dubia, as with other plants, can lead to problems such as root rot, slow growth, and yellowing leaves. If your plant has wilted leaves, consider repotting it in a more suitable soil mix. If you detect a foul smell coming from the pot, this indicates root rot from overwatering or inadequate drainage.
Fertilizing
Typically fertilizer is used during the growing season so your plant can absorb the nutrients. If your plant continues growing in the winter months, however, lower the dose of fertilizer while continuing the application.
Over-fertilizing your Monstera Dubia can cause leaf burn, wilted leaves, and slow or stunted growth.
If you suspect over-fertilization, flush the soil by watering the plant thoroughly, allowing excess water to drain, and repeating the process a couple of times. This helps wash away excess salts from the soil.
After flushing the soil, reduce the frequency or dosage of fertilizer, gradually increasing the dose and monitoring the plant's reaction.
Repotting
Monstera Dubia, like Monstera deliciosa, doesn't require frequent repotting. However, when it's time to give your plant a new home, choose a slightly larger pot with drainage holes to ensure proper root growth and prevent rot.
Spring, their active growing phase, is the optimal time to repot Monstera plants. Be gentle with the root ball when repotting, and avoid packing the new soil too tightly around it to maintain good aeration for the roots.
Propagation Guide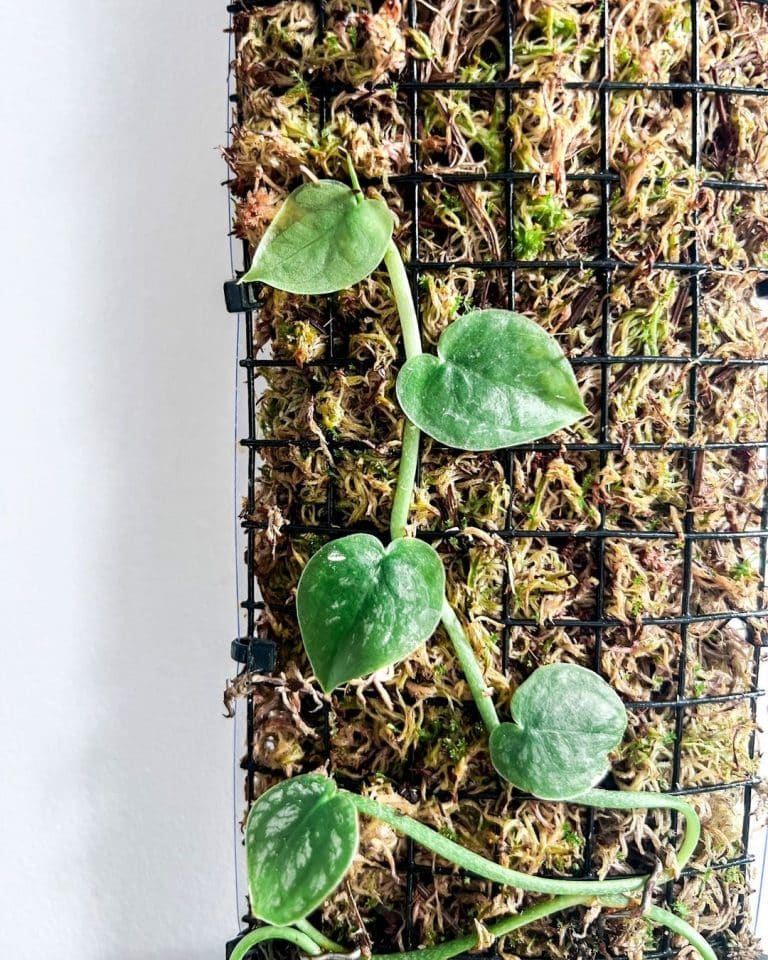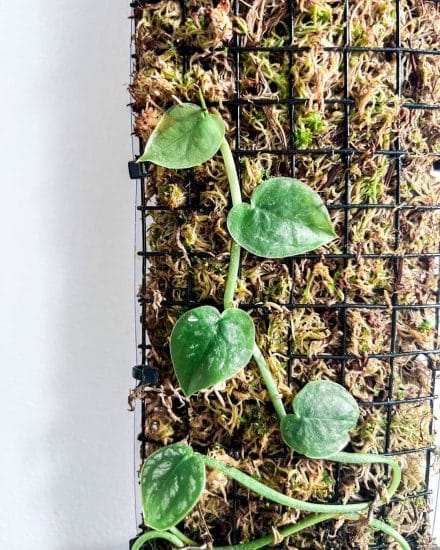 Let's dive into the stem cutting technique to multiply your Monstera Dubia!
Propagate Monstera Dubia with stem cuttings:
Select a healthy stem piece: Find a healthy single node Monstera Dubia stem cutting with a strong aerial root and a beautiful heart-shaped leaf to show off. Grab your sterilized pruning shears and make a clean cut just below the leaf node. Don't worry, your plant will forgive you!
Prepare your medium: You've got options! Moist sphagnum moss, a chunky soil mix with organic matter, or good ol' water will do the trick. If you're going for water, fill up a small container with filtered water.
Placement: Pop the stem cutting in the medium and make sure those aerial roots are nicely wrapped up. Oh, and keep the growing eyes looking upwards — they're essential for your Monstera Dubia plant's future growth!
Provide a climbing method: Monstera Dubia is a born climber and will grow stunning dark green leaves with variegation as it scales new heights. Stick a wooden plank or pole in the pot near the cutting, and watch your plant thrive!
Moisture: Keep an eye on the moisture levels of your medium and climbing surface. For sphagnum moss or potting mix, keep it consistently moist without drowning your stem cuttings.For water propagation, change the water every few days. Give the climbing surface a nice spritz regularly to keep the humidity just right.
Common Issues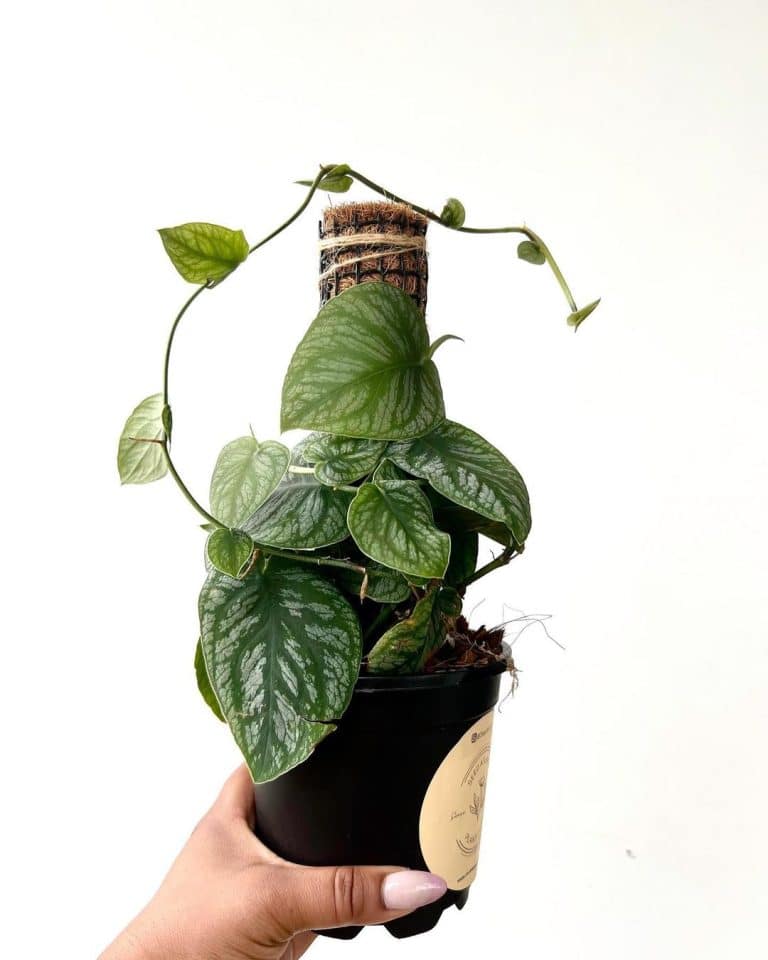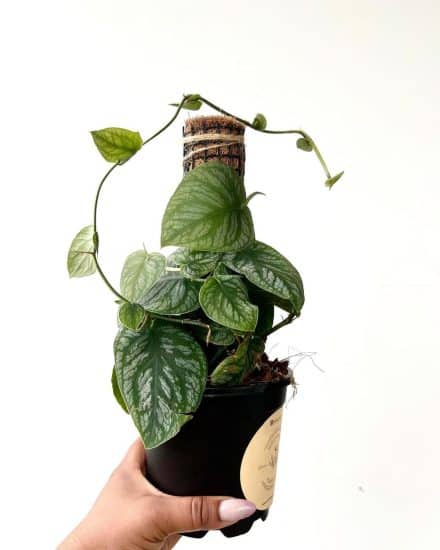 Monstera Dubia are relatively low-maintenance compared to other plants, but sometimes they still encounter a few hiccups along the way.
Dusty Leaves
You might not have noticed, but the gorgeous heart-shaped leaves of shingle plants can become playgrounds for pesky dust particles. When the leaves are dusty, the plant can't absorb light properly, and this could lead to more serious issues, like unwanted critters that we'll discuss!
So, how do you tackle this? Easy! Just take a soft brush or cloth and gently wipe away the dust from each leaf.
Yellowing Leaves
Ah, the dreaded yellow leaves . . . This symptom can signal a range of problems with shingle plants, like overwatering, underwatering, or a lack of efficient light.
If the issue is overwatering, let the soil dry out a bit before giving your plant another drink, and ensure the pot has proper drainage. In the case of underwatering, commit to consistent waterings so that the soil stays moist but not drenched.
And if it's a lack of light, find a spot with bright, indirect sunlight for your Monstera Dubia to bask in, and you'll see those leaves return to their lush glory.
Runners with Tiny Leaves
It might look interesting when your Monstera Dubia starts putting out runners with cute little leaves, but it's actually a sign that your plant is yearning for a surface to climb. And trust me, a happy Monstera Dubia loves to climb!
Here's the fix: get your plant a climbing method, like a moss pole, trellis, or a lattice. Gently attach the plant to the support using soft ties or clips. As the plant climbs, those leaves will grow larger, and your Monstera Dubia will be the showstopper it was always meant to be.
Pests and Diseases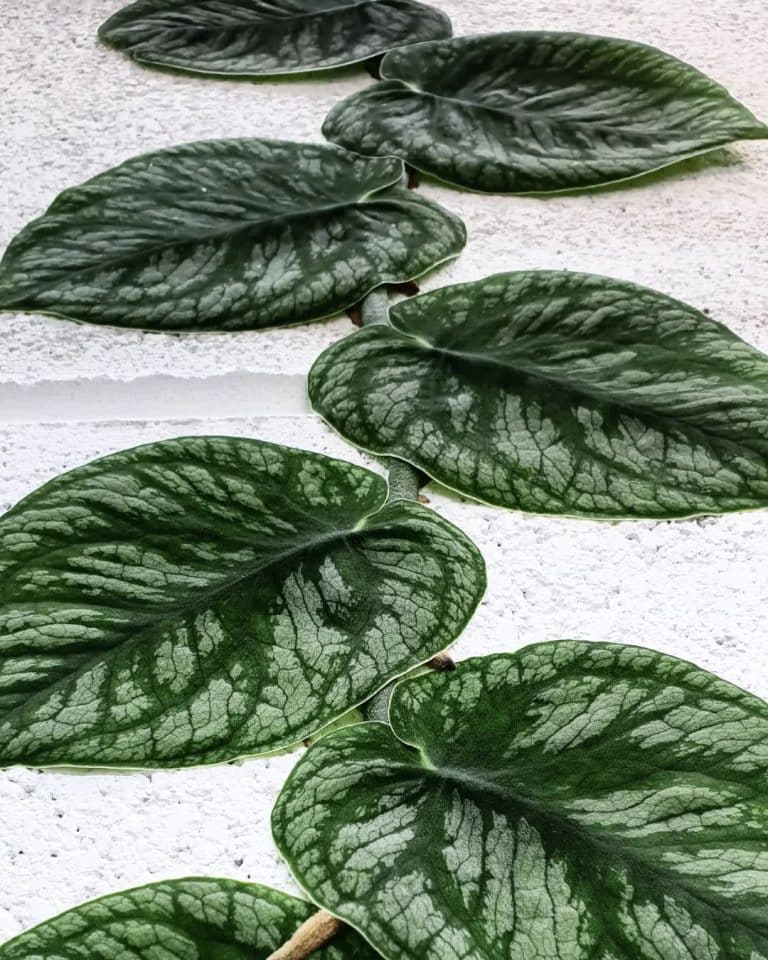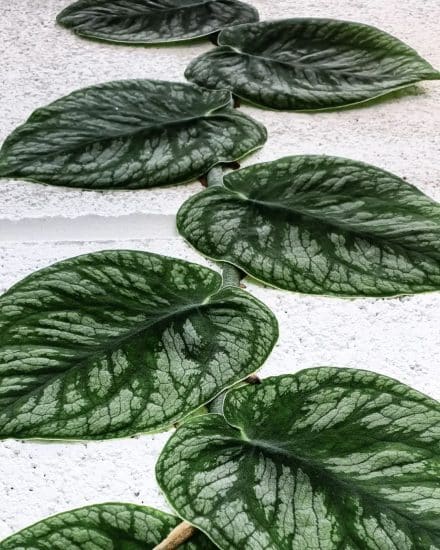 Monstera Dubia plants are usually low-maintenance and mostly pest-free, but sometimes problems can show up uninvited to ruin the shingle plant party.
Root Rot
All right, let's talk about rotting roots, which can happen to many indoor plants. They're either over-watered or not draining well. If you notice your Monstera Dubia's leaves turning yellow, it might be time to check the roots. If they're mushy with unpleasant shades of black, brown, or slimy green, these are symptoms of root rot.
Our tips for vanquishing root rot:
Carefully remove your Monstera Dubia from its pot. Sterilize your scissors first with boiling water or rubbing alcohol, and snip off those nasty-looking root systems.
Replace that old soil with fresh, well-draining stuff. For better aeration and drainage, add some perlite or pumice to the mix along with peat moss for added organic matter.
Time to repot! Gently settle the Monstera Dubia into its new home: a pot with good drainage holes. Be mindful of its watering needs going forward: let the top few inches of soil dry out between watering to stay on track. You can invest in a moisture meter to help you know when to give your plant a drink.
Pests
Monstera Dubia might attract mealybugs, spider mites, or scale insects (oh my!). They can cause some trouble by feeding on your plant's sap or leaves.
Mealybugs: Small, white, cotton-like masses on your plant's leaves and stems.
Spider mites: Fine webbing on the leaves and some nearly invisible little dots, which are the mites themselves. Red spider mites can be particularly problematic.
Scale insects: Small, flat, oval-shaped insects hanging out on leaves and stems.
If you've just got a few unwanted guests, you can try wiping down the affected leaves and stems with a damp cloth or spraying them with water.
For a more aggressive approach, mix a solution of water, a few drops of mild dish soap, and a splash of rubbing alcohol. Spray the infested areas of your Monstera Dubia, making sure to cover all surfaces of the leaves and stems. Repeat this process every few days until the pests are gone.
If the infestation is more severe or you're dealing with a scale infestation, it might be time to consider using a neem oil or horticultural oil spray. Apply according to the product instructions, and repeat the process as necessary.
To keep pests from returning, keep the leaves clean and free of dust, maintain proper watering and humidity levels, and check your Monstera regularly for any signs of trouble.
Conclusion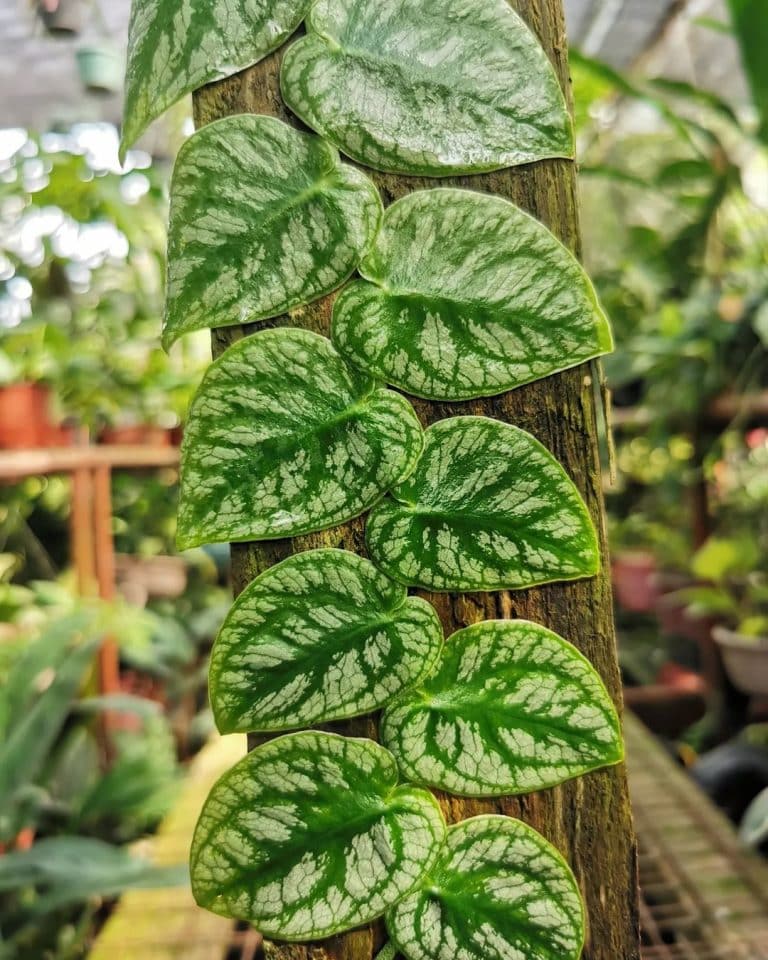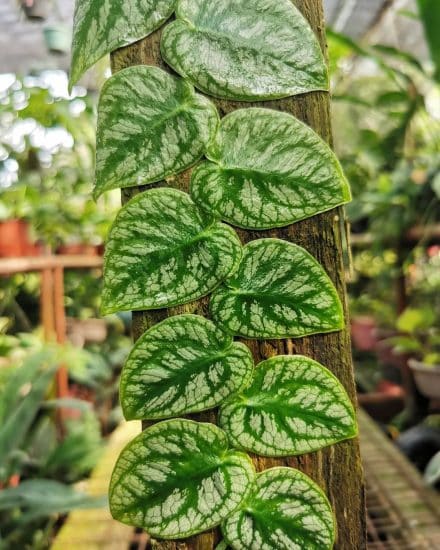 That's it for our Monstera Dubia care guide!
Monstera Dubia plant care summary:
Bright indirect light is key for Monstera Dubia's growth and health.
Allow the soil to dry out between watering to prevent root rot.
Use stem cuttings to propagate Monstera Dubia in soil or water.
Maintain temperatures between 68-86°F (20-30°C) and humidity levels of 65-70%.
Provide well-draining soil and a climbing support method for your plant to thrive.
We hope this guide has been helpful to you! If you have any questions or need more information about Monstera Dubia or other houseplants, please don't hesitate to reach out to us.
And if you found this article useful, share it with a fellow plant lover or on social media!
Take care, and happy growing!
FAQ
Why is Monstera Dubia so expensive?
Monstera Dubia, expensive? You bet. The primary reason is its unique shingle-like growth pattern. Add to that its eye-catching silver-colored juvenile leaves, and you've got a plant that's worth its weight in gold!
Another reason for the higher price is that it can be a bit harder to find, especially if you try to buy Monstera Dubia at your local garden shops. It's considered a rarer variety of Monstera, and as the demand increases, so does the price.
But don't let that discourage you! The joy of watching this indoor plant transform into a living piece of art is worth every penny.
Is Monstera Dubia a slow grower?
You might have heard that houseplant grows slowly — but the truth is, when you care for Monstera Dubia properly, this plant can turn into a speed demon. That means providing a sunny spot, plenty of humidity, and of course, some climbing support. In its native habitat, it's not uncommon for Monstera Dubia to reach dizzying heights as it climbs trees in search of sunlight.
Does Monstera Dubia need to climb?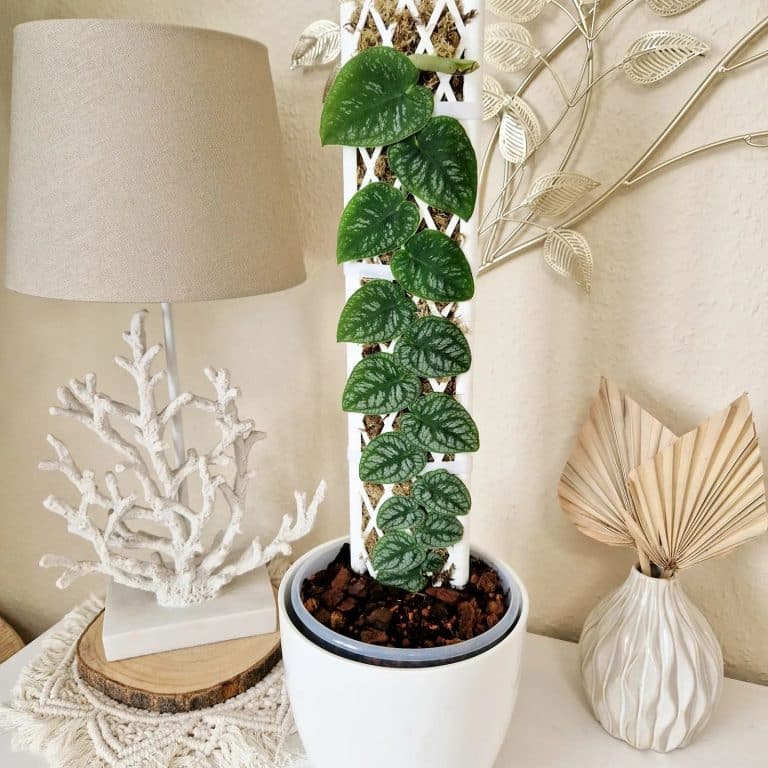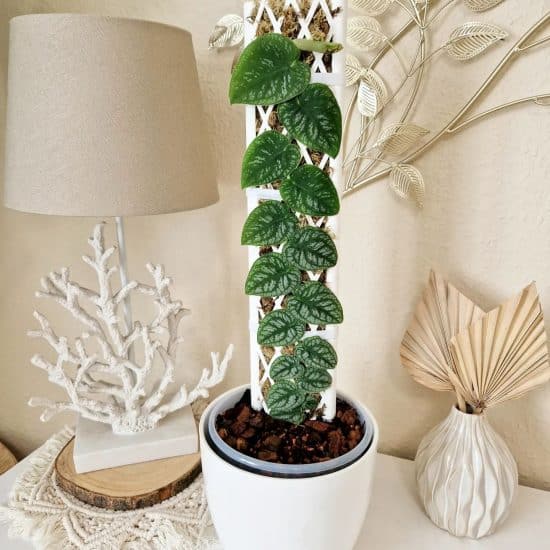 Absolutely! Monstera Dubias are born climbers, and providing a climbing support is essential for the plant's healthy growth. As it clings to a moss pole, trellis, or lattice, Monstera Dubia will scale new heights, develop larger leaves, and become the stunning plant it's meant to be.
Is Monstera Dubia rare?
Yes, Monstera Dubia is considered a rarer variety of Monstera, especially when compared to some of its more common cousins like Monstera deliciosa or Monstera adansonii. Its unique shingle-like growth pattern and silver-colored juvenile leaves make it a prized possession among plant lovers.
Sources
https://powo.science.kew.org/taxon/urn:lsid:ipni.org:names:163921-2